Grout Cleaning Services In Lowell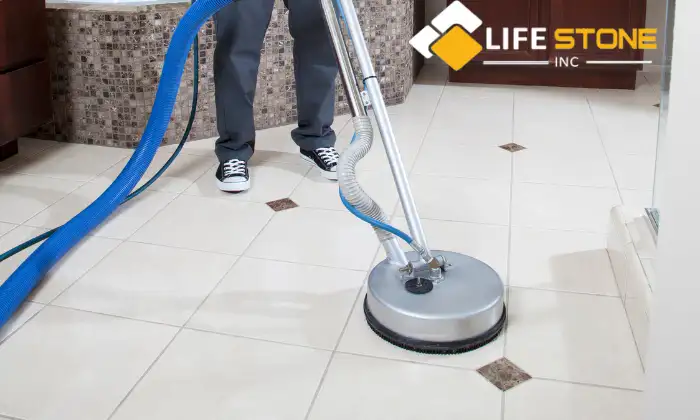 Grout cleaning service will help you keep the grout in your tile looking brand new, extending the life of your flooring, and making it look nicer than ever. Whether you're thinking of installing new floors or just trying to keep your current ones looking great, make sure you consider adding this service to your business plan today!
For many people, cleaning the grout in their tile and porcelain is something they put off. But over time, dirt and mold can build up in your grouts. This is a problem because the buildup makes it hard to clean the rest of your home. The good news is that we have a solution for this problem. We offer Grout Cleaning Service, both shower grout cleaning service and bathroom grout cleaning service to help you get rid of the dirt and mold that's built up in your grouts. Our services are always avalible to our respected customers.
Grout Cleaning Service Cost
A grout cleaning service can get your tile or stone looking its best. Grout is a porous material that gets stained and dirty over time, so it needs regular maintenance to keep it looking fresh. Unfortunately, not everyone can do this type of job themselves, as it takes specialised training to use the right cleaning chemicals. That's where we come in! we can get your grout back to looking new, with a process that will not damage your tile or stone.
We've got you covered with our grout cleaning service cost which includes everything you need for the job at an affordable price. You won't find a better deal anywhere else! With prices starting at just $200, you'll be amazed by how much work goes into one clean. Get professional-level results without having to pay the big bucks by giving us a call today! Tile cleaners know how important grout maintenance is. There are many factors that contribute to dirty grout, but these professionals have the know-how and experience to clean any kind of tile no matter what condition it's in. With services like pressure washing available for decks, driveways and siding we also offer home exteriors a makeover too!
It's simple: let us take care of your tile – from inside your home to outside on your patio – before winter sets in! As well as providing high quality tile and grout cleaning service, we offer exterior tile cleaning for both residential and commercial properties. Unlike most other companies who charge upwards of $400 for a basic power wash, our rates start at very reasonable level! Whether you're working on updating the front entrance or getting rid of stubborn dirt in your parking lot, give us a call today to book our top-rated outdoor deck & driveway power wash services!Don't wait until spring to look up prices again; give us a call now and we are on the way.
Tile & Grout Cleaning Service
Tile and grout cleaning is a necessary step in the process of maintaining tile and grout. Dirty tile and grout can lead to mold, bacteria, dirt buildup, stains and many other unwanted substances that are bad for your home or business. We offer professional cleaning services for all types of tile and grouts. Our trained professionals will come to your home or business with all the necessary supplies needed to clean your tiles and grouts as well as provide you with a free estimate. For those who need their tiles and grouts cleaned on a more regular basis we offer many service plans.
We also provide post-construction tile and grout care to ensure that the tiles and grouts don't become dirty before they even have time to be installed. We ensure there are no surprises when it comes to pricing by providing FREE estimates on site so there are never any hidden fees or surcharges. We want our customers to know exactly what they're paying for before they commit to anything at all!
Our tile and grout cleaning services
Tile & Grout Cleaning

Post Construction Floor and Wall Tile & Grout Care

Daily, Weekly, Bi-weekly and Monthly Maintenance Plans

Any Size Tile and Grouts
Contact Us today for a free estimate on your next tile & grout cleaning service!
Shower Grout Cleaning Service
If you want to give your bathroom a clean and fresh look, the best way to do so is to clean the grout. It can be hard work, but our Shower Grout Cleaning service group will make it easier for you. We have experience with this type of cleaning, and we know what it takes to get your shower or bathtub looking good again. We offer a price per square foot that is reasonable for everyone.
We are committed to quality and your satisfaction. We take care of everything, so you don't have to worry about a thing. Our staff can do several services in your home, but we focus on Grout Cleaning Service so we're experts in that area. We are proud of our work because it gives you a clean appearance that anyone would love to have. You don't need to live with dirty grout any longer; let us help you with getting it brand new today.
As a family-owned business, we understand what our customers want because we have been there. You are not just a client to us; you are like family. We will always go above and beyond to please you because that is what you deserve. Let us help brighten up your home shower now.
We have other belogs related  to Marble and granite.
Bathroom Grout Cleaning Service
Bathroom grout cleaning can be a chore, but it's important to keep your bathroom clean and sanitary. A professional bathroom grout cleaning service can help you achieve a deep clean, getting rid of all the dirt, soap scum, and mildew that can build up over time. Bathroom grout is notoriously difficult to clean, but a professional service will have the right tools and techniques to get the job done quickly and effectively. In addition to making your bathroom look sparkling clean, a professional grout cleaning can also help to prolong the life of your tiles by preventing damage from corrosive cleaning products.
Bathroom grout can become stained and discoloured over time, making it difficult to keep your bathroom looking clean. We use high-pressure, hot water to remove all the dirt, grime, and soap scum from your grout, leaving it looking like new again. If you're looking for a bathroom grout cleaning service that can deliver exceptional results, contact us today. We'll be happy to provide you with a free quote.
After your home or office construction project is complete, the last thing you want to deal with is cleaning up the mess. Fortunately, you or choosing the right one, our service will take care of everything for you. We'll come in and thoroughly clean all the tile and grout, removing any dirt, dust, or debris that may have been left behind. We'll also seal the grout to protect it from future stains and wear. Our service is available for both residential and commercial projects. Contact us today to learn more.
In addition, our service can also help to restore the original color of your grout, making it easier to maintain a clean bathroom going forward. So, if your bathroom grout needs a treatment give us a call today. We, Stone Sealer and Restoration Based in Massachusetts are not providing with only Grout Cleaning Services but also specialised in Stain and scratch removal. Your satisfaction is our pride. 
 

How often should I have my grout cleaned?

 It depends on how much foot traffic your home or office gets, but we recommend having your grout cleaned at least once a year. More frequent cleanings may be necessary if you have pets or small children.

 

How long does the process take?

 It depends on the size of your bathroom, but most projects can be completed in one to two hours.

 

Is your service guaranteed?

 Yes, we offer a 100% satisfaction guarantee on all our services. If you're not happy with the results, we'll make it right.

 

What are your hours?

 We're available 24/7 to accommodate your schedule.

 

How much does your service cost?

 Pricing varies depending on the size of your bathroom and the condition of your grout. Contact us today for a free quote.