Black And White Marble Tile | Stone Sealer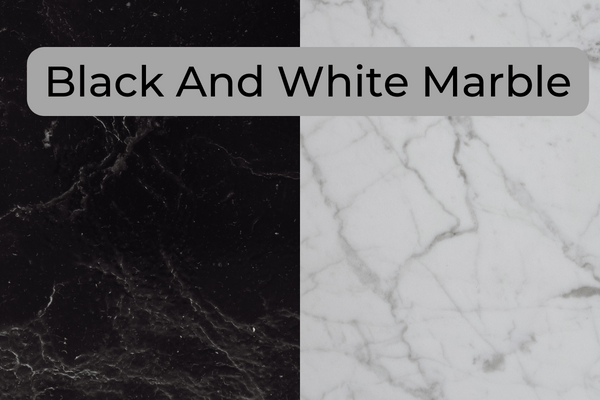 Looking for a way to add some elegance and sophistication to your home décor? Consider adding black and white marble tile. This timeless look is perfect for any room, and can be used in a variety of ways. Whether you're looking to renovate your bathroom or add a new backsplash in the kitchen, marble tile is sure to impress. And best of all, it's surprisingly affordable. 
So why wait? Start browsing today and see how easy it is to bring some elegance into your home. Contact Stone Sealer Restoration for more details.The drama of black and white marble tile interior design never goes out of style. It's a forgiving palette – there's more than one way to do it, and you can't really go wrong. It doesn't matter whether your style is traditional and classic, rustic, vintage or super-modern and contemporary, black and white will always be in harmonic balance. 
The unique textures and shapes are sure to inspire your creativity and leave plenty of room for personalization. White marble usually has delicate veins or patterns in yellow, gold, brown, or green. Pure white marble is also available from a few quarries. Black marble usually has inherent veins or fluid patterns in yellow or gold. Pure black marble is not easily available.
Pros
Aesthetically pleasing

Unique colors and textures

High resale value

Product limitations can be mitigated with sealers

Desired by many home buyers
Cons
Expensive

Cold (must be heated)

Brittle, easily breaks

Porous (must be sealed)

Uses up natural resources
Black And White Marble Tile Bathroom:
When it comes to choosing a color scheme for your design, you can never go wrong with the classic black-and-white combo. Providing the perfect balance through contrast, black and white designs lend themselves to almost any style or décor, from cozy rustic to sleek and modern, while still standing out abundant in style. 
With bathrooms, this color combination is even more popular. Offering effortless chic with a touch of glamour, black and white bathrooms never go out of style. Looking for some inspiration to spruce up your bathroom? Go back to basics with these black-and-white design ideas, showcasing the true versatility of this timeless pairing.
Timeless Tradition
This black-and-white European-style bathroom recreates a beautifully traditional aesthetic. A freestanding tub at the center of the room serves as an anchor for the entire design, as a distinct black-and-white tile floor provides a touch of drama. 
Classic motifs such as wall moldings and gold appliances add distinct warmth, balanced by the modern dark painting to create a high-end feel, that's not overly fancy or adorned.
Decked in Drama
Decked in white marble look large-format porcelain tiles with dynamic black veining, paired with minimalistic black vanity and bath, this black-and-white bathroom is the epitome of modern design. Simple geometric forms and clean lines are contrasted with the dramatic movement of the marble pattern, creating a balanced yet impactful visual. 
Advanced porcelain printing technology provides the luxurious look of marble on a budget, which allows the incorporation of the marble pattern on both the walls and the flooring.
Classic With A Twist
What is more iconic than a bathroom tiled with black and white mini-hexagon mosaics? This shower wall took the classic look to the next level, combining black and white to create a bold and graphic pattern. The result is modern, fresh, and extremely fun. The small-format pattern of the tile adds a satisfying sense of texture, balanced by the simplicity of the design.
Rustic, Elevated
This beautiful bathroom features an unexpected combination of mod-inspired black-and-white tiles with a hint of rustic charm displayed in the floating wooden vanity. Complete with gold details in the appliances, lighting, and décor, the space showcases an innovative and original design with an eclectic fusion of styles and aesthetics.
Texture Therapy
With a dramatic 3D tiled black backsplash, this bathroom uses bold and tactile textures to create a unique and eye-catching design. In addition to the dimensional backsplash, a textured stone vessel sink provides the space's raw material quality. Brass accents add a touch of luxury to this elevated look, completing a unique design-forward visual.
Floor Focused
Elegant white marble meets a bold and modern black-and-white pattern to create this captivating bathroom design. The contrast between the simplicity of the design and the graphic quality of the pattern creates a modern and dynamic visual that does not commit to any specific trend or style but rather creates a timeless design that is full of character.
Natural Beauty
This simple bathroom design uses texture and material to create an authentic look with an artisanal feel. A textured ceramic wall tile with a beautiful satin finish provides a unique, handmade look, elevated with a jet-black color. Exposed golden pipes under a floating sink introduce an industrial feel, as textile details add warmth to the overall look.
Modern Lines
This modern bathroom design balances a minimalist decor with an eye-catching and unique backsplash. This printed porcelain tile features a clean yet diverse linear pattern and adds complexity to this otherwise simple and clean design. A dark brown vanity adds depth and richness to the design, complete with a small plant introducing a touch of color.
Black And White Marble Floors
Natural stone tiles are a versatile building material that can be used for various projects. You can use these tiles for flooring the internal and external areas of your home. They can also be used for creating shower seats and countertops, bathroom vanities, re-cladding retaining walls, gazebo roofs, patios, black and white tile pool decks, garden stepping stones, walkways, and even driveways.
Other than the multipurpose part, tiles also are a popular choice for many homeowners because of the benefits they come with. Some of these advantages are
Easy installation: No matter what type of natural stone tile you buy, the installation is always extremely simple. If you have a bit of experience in home depot projects then you can easily set up tiles in a whole room without any effort or problem. All you need to do to perform this project like a professional contractor is to make sure to keep the alignment of the tiles on track. Taking this one precaution will allow you to achieve results that will give off the vibe of a professional installation.
Huge variety: Natural stone tiles come in a large variety of colors and shades. The beauty of stone tiles like travertine and limestone is that you can get them cut into the shape and size of your preference. There are countless patterns that can be created with these tiles. You can even opt for the choice of a mosaic which will allow you to mix and match different colors and sizes for a creatively unique pattern.
Maintenance and care: Natural stone tiles require the minimal effort of mopping on daily basis to retain their beauty. A good sealing job can last up to a year which is not only economical but also helps in protecting the stone's surface. You only need to be careful about acidic liquids and cleaning products that can damage the stone's appearance if not wiped immediately.
Easy replacement: A broken or chipped tile can easily be replaced with a new one without redoing the whole floor which makes tiles an ideal choice for floors. It is however recommended that a box of spare natural stone tiles is purchased and kept in a dry safe place for a swift and easy replacement job. 
Durability: The ancient empires knew the strength of tiled floors and this is the main reason why we can still marvel at the floors of Greek and Roman ruins. Natural stone tiles like marble and travertine can withstand freeze and thaw cycles. The stone tiles from the limestone family are all heat resistant and stay cool even during long summer days.
Environment friendly: Marble, travertine, and limestone are formed through natural processes. They are quarried from their formation locations, cut into tiles, and shipped to suppliers. There is no use of chemicals in this cycle which makes them environment friendly.
Black and white tiles
The black and white marble tile combination is a flooring pattern that has been in style for decades. It is an uber-chic combination that is alluring and breathtaking. A monochrome floor is a timeless design that can work with any type of furniture and home style. This combination is the epitome of sophistication and grace. It can add a dramatic touch to your design scheme effortlessly. The beauty of this combination also lies in the geometry with which it is used. It all depends on your personal preference whether you want this combination to be simple or mesmerising. It is a timeless combination.
Black And White Marble Tile 12x12
Marble is easy to make your kitchen, bathroom, or any other place look flawless and perfect. Marble is a time-tested material that has been used in buildings of the world's most prestigious locations for centuries. 
Marble Tiles provides luxury and exclusivity to any home by adding rich textures, patterns, and endless decor possibilities. The Polished surface of the Black Marble Tiles allows for easy ways to achieve stylish reflections. You won't be able to find anywhere else the elegance of Black Marble tile for your space. 
With a wide range of coordinating wall tiles, floor tiles, and mosaic tile options available to you for design flexibility in installation, your walls will be sure to turn heads. There are many different music and tile size options. The 12×12 format tile is a perfect square-shaped tile that would be amazing for kitchen floors, and kitchen walls. bathroom floors, bathroom walls and so many other places in the home. This tile is not too big and not too small it is a perfect size for any home project needs!
Premium Grade 12×12 Nero Marquina Marble tiles. Black Marquina Marble Honed 12 x 12 Wall & Floor Tiles are perfect for any interior/exterior projects.  The Nero Marquina Venato Marble 12×12 Field tiles can be used for a kitchen backsplash, bathroom flooring, shower surround, dining room, hall, lobby, corridor, balcony, terrace, spa, pool, etc. Nero Marquinia Black Marble 12×12 Floor tiles with a large selection of coordinating products are available and include hexagons, herringbone, basketweave mosaics, subway tiles, moldings, and borders.
First Quality and Factory Direct. We offer premium natural marble with large selections at a discount price. All our products are consistent in size and finish.

Natural Beauty. Natural stone does vary in pattern and color, so each piece will be unique, which is part of what makes natural stone such a beautiful and interesting material.
We offer custom packaging with no additional charge on all orders to ensure your order will arrive ready to be installed. You can order small quantities based on your project needs or larger quantities which are readily available in both full pallets and containers.
Black W/Vein marble is a dramatic, high-contrast black marble featuring frosty white veins. It is available in polished tiles for ultimate design flexibility to create stunning marble countertops, marble tile floors, shower surrounds, accent walls, and other features throughout homes and businesses.
Black And White Marble Tile Shower
A marble tile shower is one of the most desirable and functional natural materials for most homes. This is even more important for small marble bathrooms. Marble tile flooring is a desirable application for most bathrooms. Marble tile bathrooms are typically on polished surfaces. 
Most people associate this with slippery marble floors. On the contrary, most polished marble bathrooms are less slippery compared to others. Marble Systems carries the most popular soap dish size which is an 8″ radius. 
Our soap dishes come with a rounded edge so that they are easy to clean.  Another option is installing full pieces of porcelain slabs for the entire shower. Porcelain slabs are very popular because of the fact that they are very impervious to staining. 
Stone-looking porcelain slabs come in the popular White Carrara look or Calacatta look. You can literally cover the whole bathroom with 2 or 3 pieces of slabs. These slabs are manufactured on-site with a qualified installer. There are no joints and it is very easy to clean. The disadvantage is that these slabs are very fragile during installation and transportation and they can easily chip. 
Black and White Marble Tile Backsplash
With a stunning backsplash, the best kitchens are the ones that pay special attention to the little things. Your kitchen backsplash is not only useful—ever tried cleaning up spaghetti sauce from paint?—but it can make a big difference in a kitchen. 
An upgraded backsplash can be less expensive than, say, a full countertop, but it can still make a big impact in your kitchen. Marble exudes luxury and elegance and is a great statement-making material for a backsplash. It can feel both trendy and traditional at the same time and works wonderfully in so many different styles of kitchens.
Depending on the type, marble can be pretty and understated. A marble such as Carrara will have less contrast in the stone and works beautifully with bold cabinetry. A white range hood is mounted between black framed windows to black and white marble subway backsplash tiles over a stainless steel dual range.
A long marble floating spice shelf is mounted under a black dome range to white grid backsplash tiles.
Moody, black kitchens are in right now, and we love the daring color scheme paired with a slab of rich marble backsplash. A marble with darker gray veins works beautifully with rich, black tones. Pair with black or gold hardware for a luxurious and modern look.
Black And White Marble Tile Entryway
Basically, marble is softer and more porous than granite with relatively few exceptions, like marble. Imperial Danby is one of the few extremely solid marble species. Granite is an igneous rock, and its crystalline structure makes it more resistant to abrasion, staining, or discoloration. 
In fact, it is the strongest of all natural stones. A building's entrance hall has the power to set the tone for the entire space. Whether it is a hotel lobby, a restaurant's waiting area, or a vast retail center entrance, an impeccably designed foyer is an opportunity to sweep guests off their feet and determine the mood and spirit of the experience in the building itself. 
But before you choose between a sparkling chandelier, a colorful piece of art, or a cozy bouquet of flowers for your project's entryway, it's important first to decide the backdrop for your design – the entryway tile. Your entryway tiles can define and elevate the space's ambiance, serving as the anchor for the overall design.
Elegant Design
The greatest advantage of a marble floor is, of course, its luxurious look: natural marble can induce a true regal feeling into any space. It is hard to replicate the unique impact of marble tiles, which promised to provide a level of sophistication that complements any style or decor.
Versatility and Customization
Natural marble is a very diverse material, available in stunning color combinations and unexpected brilliant shades. Unlike most natural stones, marble can also be cut and manipulated into intricate shapes and patterns and take a variety of finishes. This versatility makes this material extremely flexible and adaptable for a range of designs and decorative schemes. 
Durability and Strength
Marble is a highly durable stone with great longevity. Most marbles are very dense and therefore low to non-absorbent, especially when polished, meaning it is tough to stain. While scratching and etching are possible, they can be very easily repaired, thanks to the strength and density of the stone.
Natural Tone Variations
Marble is a product of the earth, and therefore every piece of marble has a unique pattern. While tiling an entire floor with natural marble can be unexpected when it comes to the overall pattern, it is possible to request a lot of pictures of the product to get an estimated view of how the complete design would look and avoid any surprises.
Maintenance
Contrary to common belief, marble does not easily stain. However, many marbles are relatively soft and can scratch and etch. For that reason, softer marble might require sealing, maintenance, and repair to preserve its polished look. The good news is that most scratch marks on polished marble can be easily removed.
Classic and Refined
Nothing says grand entrance more than classic, large-format, marble floor tiling. Polished marble slabs are the epitome of elegance, creating an impactful image with simplicity, that can be incorporated in a variety of style decors, from a Classically-inspired marble temple to an ultra-modern sanctuary of design. The most famous natural marble is Carrara, thanks to its refined veining and white shade.
What Tile Looks Good With Marble
Designing a marble can be a tricky affair. Marble swirls are, no doubt, a real luxury in any home, but they're also a law unto themselves, guided only by nature as the rock is formed over hundreds of years. So, choosing tiles that work alongside marble wash basins is a question of personal taste. There's no wrong way. There's only what does and doesn't work for you.
Because marble is such a busy surface material – even white Carrara marble – if you want tiles that sit well alongside it, then you'll want to choose a plain color. Blacks, greys, browns, creams, whites, and other soft tones will allow your marble to show its opulence without looking gaudy or tacky.
Stick to small mosaic tiles or subway tiles, or thin planks of wood instead. On the other hand, if your marbling is very tight or small, feel free to use big tiles or planks of wood as a contrast.
Light gray, soft taupe, antique white, pale yellow, sand, and caramel look appealing with black and gray marble. For a darker, contrasting color combination, opt for a deep cherry red or burgundy accent color.
French Black And White Marble Tile
French Black and white marble floor tiles have been popular for hundreds of years. It is still a classic good look for Victorian and Edwardian houses. But with a little creativity, the style can work well in more modern houses and it doesn't have to be limited to a purely black and white color palette.
Chequerboard floors do not have to have equal amounts of light and dark. The image below shows how it is possible to keep the whole area nice and light and yet still achieve the black and white chequerboard feel. Here, the client used Spanish Blanco Macael white tiles each with a thin border of black Nero Marquina and a small detail of Blanco Macael to break up the black lines. 
France also has several options that we have not featured before. For example, you could consider using any of the following French limestones as the "white" option: Chauvigny, Chamesson, Avy Blanc, Massangis, or Lens. Or you could go for something with a stronger colour such as Beauval, Magny Jaune, Vallangis, Lanvignes or Rocheville. For contrast, try the Spanish Phyllite or the Belgian Soignies limestone (which is also known as Belgian Fossil, Belgian Blue, Petit Granit, or Bleu de Hainaut). There's a world of combinations to create a truly unique floor.
Antique Black And White Marble tile
The historic, antique black and white Nero and Bianco Carrara marble stone floor always catches my eye.  Found throughout Europe from King's estates to fine manor homes, this stone floor is an ode to the Romans who cherished the symmetry and geometry of the checkered marble black and white floor.  It provides an anchor and incredible ambiance to a room, as well as a remarkable artistic contrast to other materials within the interior. 
Antique white and black marble is available in the traditional checkerboard, all white or all black. We often supply borders, thresholds, and skirting to suit. Large sizes for special pieces can also be procured. The antique marble is often cut up into interesting shapes. Classical chequerboard flooring in White marble and Black marble tumbled.
Does tile increase home value?
Not only will it impress your friends but did you know it can also increase your home value when you're looking to sell? Well, it turns out a proven way to increase your home value is to add new beautiful tile, flooring, and backsplash within your home.
When were black and white tiles popular?
1920s tile shapes included penny round, hexagon, pinwheel, square, subway, and basketweave tile. Smaller formats were used to make spaces look larger. Black and white were very popular colors in the 1920s — white was thought of as a more sterile color.