Marble Granite Permanent Sealing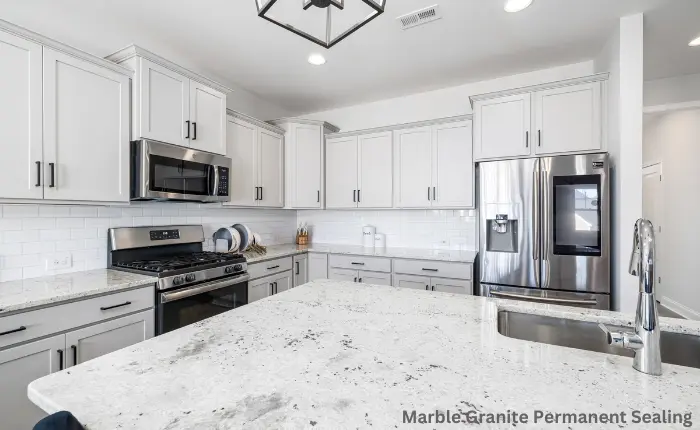 Marble and granite are two of the most popular materials for any type of home construction. While both materials have their own set of benefits, there are a few things that you need to take into account when sealing either of them. In this article, we will discuss marble granite permanent sealing services and how they can benefit your home.
Marble Granite Permanent Sealing Services
If you're looking for a way to protect your marble from the elements, look no further than our marble granite permanent sealing services. Our team of experts can apply a permanent sealant to your marble that will keep it free from dirt, dust, and other particles that could damage or discolour it over time. 
Plus, our sealant is non-toxic and easy to clean – so you can rest assured that your marble will stay looking its best for years to come. Give us a call today to learn more about our senguard permanent marble & granite sealer 
Costs of Marble Granite Permanent Sealing
In order to permanently seal marble granite, there are a few costs that you will need to factor in. One of the most important things to consider is the type of sealant that you choose. There are a few different types of sealants available, and each one will have its own set of costs. 
If you are using a high-quality sealant, like silicone or acrylic, the cost will be higher than if you use a cheaper sealant, like polyurethane. Another important consideration is the time required for the sealing process. If you're only interested in a temporary sealant solution, then a quicker process may be more affordable. However, if you want your marble granite surface to last for years, then a longer process may be necessary. 
There are also other costs associated with sealing marble granite surfaces. For example, if you need an extra layer of protection after the sealant has been applied, then additional labour costs will be incurred. And finally, if you're looking to install marble granite sealing services yourself, then there may be additional tools or equipment that you'll need in order to complete the job successfully.
How to Seal Marble Parmanently
Sealing marble is a crucial step in preserving it for years to come. There are many different sealers available, so it is important to choose the right one for your marble. Here are some tips on choosing a sealer:
Check the compatibility of the sealer with your marble. Some sealers will not work well on certain marbles because they contain chemicals that can damage them.

 Choose a sealer that is specifically designed for marble. Not all sealers are effective on this type of stone.

 Clean and dry the surface of the marble before applying the sealer. This will help prevent any damages from occurring during the sealing process.

 Apply a thin coat of sealer to the surface of the marble. Make sure to apply pressure evenly throughout the area being sealed so that the sealer can fully bond with the stone.

 Allow the sealer to fully dry before touching or moving the marble. This will ensure that any paint or other contaminants applied during application will be trapped within the stone and won't be able to damage it furthe
There are a few different ways to seal granite. One popular method is to use a sealant made of wax and resin. To apply the sealant, you will need a cloth, a small brush, and the sealant. Apply the sealant to the surface of the granite with the cloth, then use the small brush to apply pressure evenly across the surface. Let the sealant dry for at least one hour before cleaning.
Reasons Why a Company Would Want Marble Granite Permanent Sealing
A company might want to seal its property in order to protect it from water damage, weather damage, and other potential threats. Sealing also makes the area more secure and easier to manage. There are many reasons a company might choose to seal its property. 
One reason a company might want to seal its property is to protect it from water damage. Water can cause a lot of damage to a building, including leaks, rot, and corrosion. Sealing the property can help prevent these problems from happening. 
Another reason a company might want to seal its property is weather damage. Weather can cause wood frames or other materials to decay or break. Sealing the property can help protect it from wind and rain damage. It can also help keep the area warm in cold weather and cool in hot weather. 
Finally, sealing the property can make it more secure. By sealing off areas that are not normally accessible, companies can make it harder for thieves or criminals to get into the building or steal things. This can prevent losses that could be costly in terms of money or lost business opportunities.
Tips for Preventing Damage from Carpets and Drying
Carpets and other textile materials can be damaged by pets, moisture, bleach, high heat, and other sources of friction. To prevent damage:
Keep pet areas clean and free of objects that could be used as scratching posts.

Avoid using harsh chemicals or cleaning products on carpets. These can damage the fibres and increase the chance of stains.

Rinse carpets regularly with water to remove excess moisture and dust. This will help keep them from becoming matted down and more susceptible to damage.

Do not dry carpets in direct sunlight or near a heating device. This will cause the fabric to become brittle and prone to tearing. Instead, use a fan or air conditioning to speed up the drying process.
Permanent sealing of marble and granite surfaces is a great way to protect them from the elements and to keep them looking their best. By using an appropriate sealant, you can ensure that your marble or granite remains clean, shiny, and free from any signs of wear. We highly recommend senguard permanent marble & granite sealer as the perfect solution for protecting your floors, countertops, showers, and more.
Contact Stone Sealer restoration services for more info.