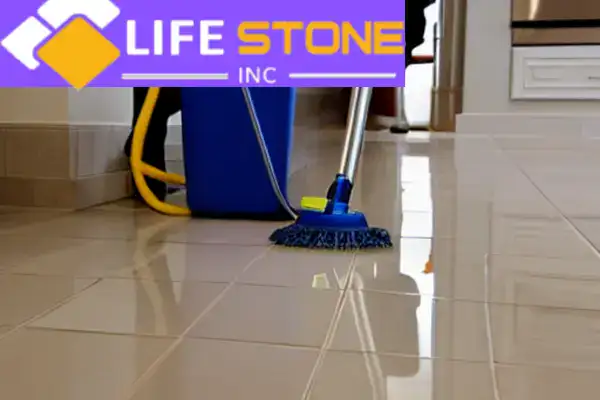 Cleaning tile floors by hand is hard work. method to clean out the hidden dirt and restore the luster to your floors. Our company is here to provide you with the best tile cleaning services and maintenance services you can imagine. Experience the most pristine floor cleansing. Our professionals make sure not to leave the premises until you are satisfied. In addition, we'll remove 96.5% of allergens from your grout.
1: Examining the Floor First. They took a thorough look at your floor and the type of tire it has and examined the empty places where the grout is messy and damaged.
2: Scrubbing the Tiles and Grout: This process will completely clean your floor and make it overall new.
3: Cleaning With Bleach: Bleach is considered the best cleaning agent.
4: Cleaning Through Grout Cleaner: During tile and grout cleaning, our cleaning team makes sure to use standard and quality grout cleaners. It means we clean your tiles and grout without affecting their colors. Our professionals choose a grout cleaner according to your grout floor type, so it can increase the lifespan of your floor. Get Our Special tile cleaning services now.
Grout and tile cleaning with a grout pen. Grout and tile cleaning without scrubbing. Grout and tile cleaning with shower.
OUR TILE AND GROUT CLEANING EQUIPMENT
We employ a high-pressure water system, a vacuum system, and a cleaning agent that doesn't leave a residue to clean tile and grout. Before you schedule a cleaning, we provide in-home demonstrations of our tile and grout cleaning procedure so you can see it in action on your home tiles. Our tile and grout cleaning procedure eliminates 96.5% of typical household allergens on average.
Tile Cleaning Service Cost:
The average cost of cleaning tile and grout is $465, with a usual range between $282 and $654. You may pay anywhere from $140 to $1,000, depending on the size of the work and how much it is dirty. The cost per square foot ranges from $0.50 to $3, primarily depending on the number of grout lines or the area where tile grouting is to be done.
Pool Tile Cleaning Service:
Pool tile cleaning can be tedious, but we can help! Calcium may appear to be dripping out of the grout lines. These areas can be treated, but unfortunately, the recurrence can't be stopped, and deep pool tile cleaning may be warranted.Obtaining clean pool tile will require periodic treatment.
Even with excellent tile upkeep, the majority of pool owners battle with those hard-to-remove calcium deposits, which is our area of expertise. Your pool tile can seem spotless and clean thanks to the quick and efficient removal of those stains by our expert equipment! Two sources provide calcium for pool tile. Calcium on the tile seeps through the grout from the underlying surface if that surface was not adequately sealed before the tile was put in.
Roof Tile Cleaning Service:
Roof cleaning is a crucial component of regular home and roof maintenance, as well as external cleaning services. In the future, failing to get your roof professionally cleaned on a regular basis may require a variety of expensive repairs.
Instead of including roof cleaning on your list of things to accomplish, consider booking a roof cleaning service to come and give you a roof tile wash. We have trained roof technicians that are ready to visit your home and clean your roof. We provide these services for both residential and commercial areas.
Outdoor Cleaning Service:
Offering a range of professional residential cleaning, commercial cleaning, our outdoor cleaning services ensure that your property is clean, well presented and well maintained.Whether it's pressure cleaning, house or building washing, floor cleaning, hard surface sealing, roof painting or car park cleaning, our highly trained team has the experience and equipment to deliver outstanding results for all your outdoor surfaces.
At Outdoor Cleaning Specialists, we offer a variety of residential cleaning services to keep your home's exterior clean, safe, and well-maintained. Residential: Outdoor cleaning for house exteriors, driveways, paths, timber, sandstone, roof tiles, and more. Commercial:Commercial high pressure cleaning for building exteriors, floor surfaces, car parks, and more. Strata: Professional strata cleaning for building exteriors, driveways, bin areas, and common areas. Our team is expert and we provide the best out door tile cleaning services.
The Benefits of Recoating or Cleaning Ceiling Tiles:Recoating or cleaning ceiling tiles is not something a business owner can afford to overlook. A professional cleaning appointment will Remove dust, dirt, and other particles that tend to cause ceilings to age prematurely. Affordable Replacing a ceiling is a costly undertaking.
The Types of Tiles We Clean

Acoustic Tiles

Vinyl Tiles

Fire Rated

Panel (FRP) Tiles

Metal Pan Tiles
The Imperial Ceiling Tile Cleaning Process:
In our tile cleaning services, we vacuum dust, dirt, and other particles from ceiling surfaces, apply cleaning solutions, and spray special cleaning solutions to give new life to your building's ceiling tiles. During recoating, we use a formulated coating to restore the original beauty of a ceiling.
Fast and effective

No damage

No mess

No lasting odors

No business disruptions

Carpet and tile cleaning:
Life gets messy, if you've got a spill on your FLOOR rug, try our treatment recommendations for some of life's most common spots and stains. Get remove stains by our tile cleaning services.
TREATMENTS GUIDE
Blot with white kitchen roll or paper tissues

Vacuum clean

Cold water

Warm water

General purpose spot remover approved for water-based stains

General purpose spot remover spot remover for greasy/oily stains

Absorbent paper or paper tissue and hot iron

Chewing gum remover (solvent or freeze type)

Nail varnish remover or acetone

Surgical spirit (ethyl alcohol or ethanol)

Rub with a coin

Rub gently with coarse sandpaper
Professional Tile Cleaning Service:
Cleaning tile and grout requires more than a cursory use of household cleaners and a sponge. Your tile surfaces and grout lines become stained and dull as a result of the accumulation of dirt, dust, and pollutants over time. Stone Sealer experts use advanced heat-based technology, cleaning solutions, vacuum power, and high-pressure rinse to remove dirt and grime that others cannot. Next, they mop the floor to remove stains, and professionals help keep your floors clean. Contact us for our tile cleaning services.
FAQs
Can tile floors be professionally cleaned?
Regular cleaning will get the job done at the surface level, but a professional will deep clean your floors beyond the surface. Remember not to leave any tile flooring problems for a long time as they can cause bigger and more costly issues down the road.
Is professional grout cleaning worth it?
Professional Cleaning saves you in the Long Run
In addition to that, a professional cleaning will extend the life of your tile and grout by keeping them cleaner. Tile experts can also provide recommendations for how to care for your surfaces so you can significantly extend their lifespa